Analysis: What the reaction to China's leader coughing during a speech says about East Asia right now
[ad_1]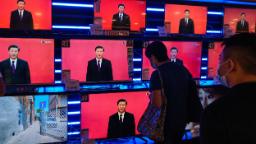 While any speculation about Xi's health was, unsurprisingly, not evident on Chinese social media or in tightly controlled state publications, critics of Beijing quickly seized the opportunity.
In a story headlined "Xi Jinping coughs and coughs at Shenzhen event," Apple Daily — a vehemently anti-Chinese Communist Party, pro-democracy newspaper in Hong Kong — reported that in the second-half of Xi's 50-minute speech "he frequently paused to drink water and coughed repeatedly."
"Whenever Xi stopped, the live feed from state broadcaster CCTV would turn the camera to guests sitting beyond the main table, but it could still capture the sounds of Xi's coughing and drinking," the newspaper said.
Epoch Times, a media outlet linked to the Falun Gong religious group, which has long been suppressed in China and is one of Beijing's biggest critics overseas, took the speculation a step further, with a video titled "Xi Jinping in Shenzhen: is he infected?" Some Taiwanese outlets also noted the President's "violent cough."
There are, of course, plenty of reasons for Xi to cough that do not indicate illness: his throat may have been dry; he spoke for almost an hour, and China loves to over air-condition public buildings like the one he was speaking in. It's also important to note that China has reported less than 100 coronavirus cases nationwide in the past week, making the chances of Xi being infected by the pandemic which has brought the world to a standstill exceptionally unlikely.
Prior to his Shenzhen trip, which is partly a victory lap to show how much China has recovered from the coronavirus, Xi had been largely walled off from any potential infection vectors, in stark contrast to other world leaders, several of whom have come down with the virus, such as United States President Donald Trump and British Prime Minister Boris Johnson.
Despite all that, seeing Xi cough — with even the suggestion that the leader of the world's second-largest economy could, like the leaders of the first and sixth, be infected — did lead to some raised eyebrows Thursday.
Nor is Beijing likely to put anyone at ease. China closely guards information about top leaders like Xi, about whom certain biographical details are still somewhat sketchy. In the past, the President has twice disappeared from public view, leading to great speculation but no clarification from the Chinese authorities.
Xi is also not the first figure to cough without a mask and be greeted by abject horror in Asia at the moment. Face masks are nearly universal in most of East Asia — legally mandated in some areas — and anyone who has to clear their throat on public transport will quickly find their surroundings far more spacious than before.
More likely than not, Xi's throat was just dry. Were he to have coughed in a speech last year, no one would have noticed.
But the coronavirus pandemic has shaped everything, including how we react to normal bodily functions.
#Analysis #reaction #Chinas #leader #coughing #speech #East #Asia
[ad_2]
Arup Mandal is a reporter, contributor, reviewer & image editor of Azad Hind News. Arup have well experience in reporting .