Israel officials approve ceasefire with Hamas following 11 days of Gaza violence
Israeli leaders have approved a ceasefire to end nearly two weeks of combat with Hamas militants who have been launching rocket barrages out of the Gaza Strip since last Monday, according to regional media.
U.S. leaders had pressured Prime Minister Benjamin Netanyahu to exercise restraint in the conflict, even as they reaffirmed support for Israel's right to defend itself.
Other world leaders as well as the U.N. were also urging an end to the violence.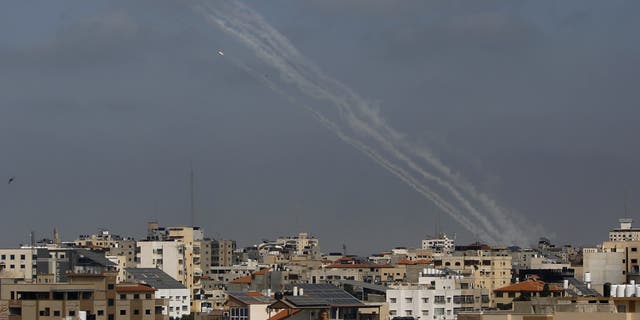 A rocket is launched from the Gaza Strip towards Israel, in Gaza City, Thursday, May 20, 2021. (AP Photo/Hatem Moussa)
The clashes left at least 12 Israelis and 230 Palestinians dead in the crossfire in the worst breakout of violence since the 2014 Gaza war. Hundreds more people were wounded, and protesters took to the streets in favor of both sides around the world, even as global leaders urged de-escalation.
Hamas has fired more than 4,000 rockets into Israel over the past 11 days in response to a clash between Israeli police and Palestinian protesters, and the IDF struck back with devastating airstrikes. The fighting was still raging Thursday morning.
Netanyahu had summoned his Security Cabinet for an emergency meeting earlier in the day, and White House Press Secretary Jen Psaki said during a news briefing that talks of a ceasefire were "clearly encouraging."
A Hamas official told Reuters that combat along the Gaza Strip border would end at 2 a.m. Friday.
Avishek is news author in sports and technologies categories. He is also an author in other news websites.