Nagorno-Karabakh: Armenia accuses Azerbaijan of violating new truce
[ad_1]

Related Topics
Nagorno-Karabakh conflict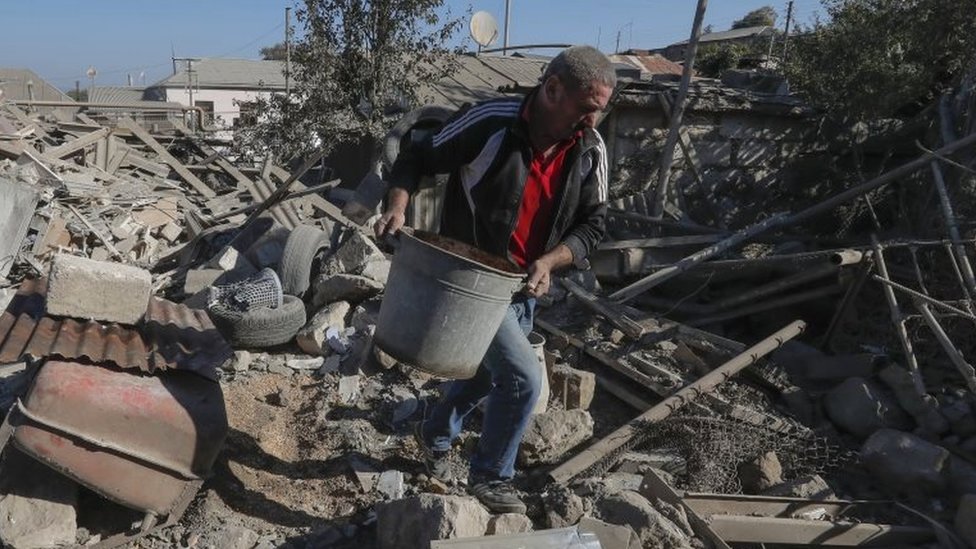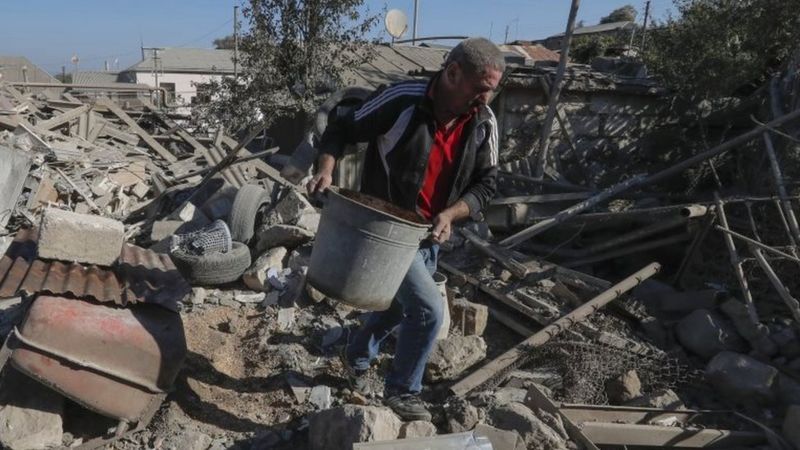 Armenia has accused Azerbaijan of violating a humanitarian ceasefire in the disputed region of Nagorno-Karabakh within minutes of it coming into force.
A truce had been agreed to start at midnight local time (20:00 GMT Saturday).
But an Armenian defence ministry spokeswoman said Azerbaijan broke the ceasefire after just four minutes by firing artillery shells and rockets.
Azerbaijan is yet to respond to the allegations.
The decision on the ceasefire was taken in line with agreements that led to a ceasefire being signed last weekend. However, clashes continued despite that accord.
Fighting flared last month over a region internationally recognised as part of Azerbaijan but which is run by ethnic Armenians. Hundreds have died.
This is the worst violence in the region since a six-year war over the territory ended with a ceasefire in 1994.
What are Armenia and Azerbaijan fighting over?

Karabakh war leaves civilians shell-shocked and bitter
Nagorno-Karabakh conflict in pictures
Earlier on Saturday, both nations continued to trade accusations over violations of the Russian-brokered truce agreed last weekend and doubts are likely to remain following the latest statements.
What is the latest agreement?
Both nations confirmed the humanitarian truce, although few other details were given.
Azerbaijan's foreign ministry said the decision was based on statements by the presidents of the US, France and Russia, representing the OSCE Minsk Group – a body set up in 1992 and chaired by the three countries to mediate the Nagorno-Karabakh conflict.
Anna Naghdalyan, spokesperson for Armenia's foreign ministry carried the same statement in a tweet, adding it welcomed efforts towards a "ceasefire and de-escalation of tension" in the conflict zone.
Russian Foreign Minister Sergei Lavrov, who negotiated last weekend's accord, spoke to counterparts in both countries on Saturday and said they needed to "strictly follow" the earlier agreement.
What is the latest on the ground?
"The enemy fired artillery shells in the northern direction from 00:04 to 02:45, (20:04 to 22:45 GMT Saturday) and fired rockets in the southern direction from 02:20 to 02:45," Armenian defence ministry spokeswoman Shushan Stepanyan said on Twitter.
Azerbaijan accused Armenia of a missile strike in the early hours of Saturday that killed at least 13 civilians and injured 45 in Ganja, a city far from the front lines.
A foreign ministry statement accused Armenia of "deliberate and indiscriminate targeting of civilians".
Armenian officials denied the attack, and accused Azerbaijan of attacking civilian areas.
Ms Stepanyan posted a video on Facebook which she said showed devastation in the Nagorno-Karabakh region, accusing the Azerbaijani Armed Forces of striking at civilians with missiles in areas including the Nagorno-Karabakh capital, Stepanakert.
Nagorno-Karabakh – key facts
A mountainous region of about 4,400 sq km (1,700 sq miles)
Traditionally inhabited by Christian Armenians and Muslim Turks
In Soviet times, it became an autonomous region within the republic of Azerbaijan
Internationally recognised as part of Azerbaijan, but majority of population is ethnic Armenian
An estimated one million people displaced by war in 1988-1994, and about 30,000 killed
Separatist forces captured some extra territory around the enclave in Azerbaijan in the 1990s war
Stalemate has largely prevailed since a 1994 ceasefire
Turkey openly supports Azerbaijan
Russia has military bases in Armenia
#NagornoKarabakh #Armenia #accuses #Azerbaijan #violating #truce
[ad_2]
Arup Mandal is a reporter, contributor, reviewer & image editor of Azad Hind News. Arup have well experience in reporting .