Violent protests in Peru amid political turmoil as country has 3 presidents in one week – CNN Video
[ad_1]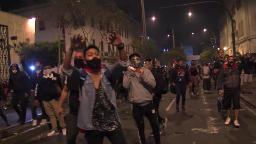 Peru has had three presidents in a week as the nation's political system appears to be crumbling in the midst of a constitutional crisis. Francisco Sagasti was sworn in on November 17 after legislators impeached one president, and protests led to his successor's resignation. CNN's Rafael Romo reports.
Source: CNN
#Violent #protests #Peru #political #turmoil #country #presidents #week #CNN #Video
[ad_2]
Arup Mandal is a reporter, contributor, reviewer & image editor of Azad Hind News. Arup have well experience in reporting .